Flour is a crucial ingredient in countless recipes, contributing significantly to creating various dishes, including bread, pasta, cakes, and pastries. This fine powder is made from grinding cereals or other starchy foods and thickens or binds different ingredients. Essential for baking and cooking, flour also acts as a coating for deep-fried treats or as a thickener for sauces.
There are numerous reasons why flour is an integral part of any kitchen. Its adaptability is evident in innumerable recipes, and its affordability and availability make it a favourite for many. Flour's health benefits provide an excellent source of carbohydrates, protein, and fibre. Whole wheat flour, in particular, supplies additional nutrients like essential vitamins and minerals.
Top Canadian flour brands should focus on consistent texture and taste. Meeting various baking and cooking needs, these brands must provide a range of flour, such as all-purpose flour, bread flour, cake flour, and gluten-free options. Ultimately, the finest Canadian flour brands will enable amateur bakers and professional chefs to use them to make delectable and nutrient-rich meals quickly.
Let's explore our selection of the best Canadian flour brands.
What makes the best flour brand?
We'll judge the best flour brands in Canada based on these four criteria:
Quality
Quality is the key to exceptional results in baking and cooking. Using top-notch flour ensures amateur and professional bakers can consistently create delectable treats. Flour is also a staple for many popular bread brands in Canada.
Quality is affected by factors like grain type, milling techniques, and how flour is packaged and stored. Canadian flour brands focus on quality and take control of these aspects to maintain excellence.
Variety
A wide selection of flour is crucial, allowing customers to choose the suitable flour for their needs. Each flour type has a unique protein and gluten content, influencing its suitability for different recipes.
Offering a diverse collection of flours lets brands cater to various dietary requirements and preferences. This allows bakers and chefs to experiment with various dishes and methods.
Availability
Consumers need to find and purchase the flour they need conveniently. Brands readily available in physical stores and online offer greater convenience, increasing their chances of success. By prioritizing accessibility, these brands can reach a broader audience and develop loyal customers.
Price
Pricing plays a key role in affordability and accessibility. Consumers can buy top-quality flour without breaking the bank. Factors like production costs, shipping charges, and market rivalry affect pricing. Therefore, brands that balance competitive prices, quality, and variety have a higher chance of thriving.
List of best Canadian flour brands
Robin Hood Flour
Quality
Variety
Availability
Price
Canadian flour brand in Saskatchewan
Robin Hood Flour has been a favourite among Canadian families for over 100 years, providing top-quality flour products. This Canadian brand believes everyone deserves high-quality, affordable flour, which continues to shape its values. Focusing on excellence, consistency, and innovation, the brand has become a staple in Canadian kitchens and a top choice for bakers of all levels.
Robin Hood Flour's all-purpose flour is the star. This versatile flour excels in numerous culinary adventures and is made from the finest wheat and ground to the perfect texture. From baking cookies and homemade pizza to crafting the ideal loaf of bread, Robin Hood's all-purpose flour consistently delivers excellent results. Loved by families nationwide, this essential ingredient holds a dear spot in Canadian hearts.
Monarch Flour
Quality
Variety
Availability
Price
Canadian flour brand in Ontario
Monarch Flour, a beloved Canadian flour brand, has adorned kitchens and bakeries nationwide for over a century. Originating from Port Colborne, Ontario, this thriving company has become a highly respected household name in Canadian Flour. Monarch Flour's unwavering commitment to sourcing top-notch wheat and grains shines through in their exceptional Flour, carefully created to meet customers' expectations.
Monarch Flour's outstanding products include their treasured bread flour. Made from high-quality wheat, this impressive bread flour lays the ideal groundwork for baking delicious and nourishing homemade bread. Distinguished by its rich protein content and gentle texture, this versatile Flour produces a strong, pliable dough that rises beautifully, leading to a tempting loaf.
The flexibility of this Flour extends beyond just bread making – it can effortlessly be used for whipping up tasty pizza crusts and bagels. Monarch Flour remains an essential staple in Canadian cuisine.
Five Roses
Quality
Variety
Availability
Price
Famous Canadian flour brand
Five Roses is a renowned Canadian flour brand with a history spanning over a century. They've always focused on offering affordable, top-quality flour to families. This belief has guided Five Roses throughout its impressive journey. Today, the brand is well-known for its commitment to quality and uniformity, making it a staple in Canadian kitchens everywhere.
Their popular product is Five Roses all-purpose flour. Made from premium wheat and milled to the perfect texture, this versatile flour works wonders for baking and cooking. Whether whipping up muffins, crafting homemade pizza or baking fresh bread, Five Roses all-purpose flour always delivers exceptional results. Its reliable performance and unwavering quality make it a must-have in Canadian homes.
For experienced bakers and culinary newbies alike, Five Roses flour products guarantee satisfaction with their consistent quality and performance.
Prairie Flour Mills
Quality
Variety
Availability
Price
Popular Canadian flour brand in Manitoba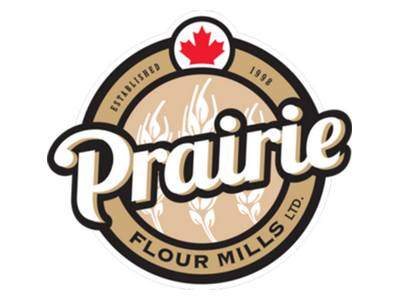 Prairie Flour Mills operates one of the best flour mills in Canada. This family-operated business has produced excellent flour for generations. Bakeries, restaurants, and households across Canada depend on this supplier for baking essentials. Prairie Flour Mills uses only the finest Canadian wheat in their products to ensure the highest quality at all times.
Their dedication to excellence is evident in the delightful consistency of each flour type's taste and texture – winning over many bakers and chefs. Choose from Prairie Flour Mills' wonderful array of flour products such as all-purpose flour, cake and pastry flour, bread flour, and whole wheat flour. Each of these fantastic choices is ground using a traditional stone milling technique that brings out wheat's natural nutrients and flavours. The outcome? A tasty and wholesome flour that takes baked goods to another level!
Rogers Foods
Quality
Variety
Availability
Price
Canadian flour brand in British Columbia
Rogers Foods, a Canadian family-owned company, has spent 60 years producing top-quality flour and cereal products. Founded in British Columbia in 1957, they aim to provide healthy and nourishing options for Canadians. With a focus on high-quality ingredients and advanced technology, Rogers Foods creates delicious and nutritious flour and cereal products.
Their products include whole wheat flour from carefully chosen entire wheat berries. Packed with fibre and nutrients, it makes an excellent alternative to regular white flour. During milling, meticulous care is taken to preserve all valuable nutrients in whole wheat. With its pleasant nutty taste, this versatile flour can be used in various baked goods, such as breads and cakes – satisfying taste buds while keeping health in mind.
Canadians readily welcome Rogers Foods' whole wheat flour as a vital part of daily meal planning. This prominent company continues to stand firm as a leading Canadian flour brand as time passes.
Swans Down Flour
Quality
Variety
Availability
Price
Canadian flour brand in Quebec
Swans Down Flour has been part of the baking world for over a hundred years. It traces back to the skilled Pearl Milling Company in the 1890s. As time passed, Swans Down emerged as a popular household name for top-grade cake flour in the early 1900s, winning over many hearts with its consistency and superior performance.
Today, this cherished Canadian brand carries its legacy in baking. It offers a versatile range of flours designed for crafting delicious cakes, delightful cookies, and other irresistible baked goods. Its food products go hand in hand with a tall, warm glass of milk from Canada's finest brands.
Swans Down Flour's first-rate offerings feature Cake Flour. Produced from premium wheat, this low-protein Flour is excellent for baking light, tender cakes with fine crumbs. Its meticulous milling guarantees smooth integration with other ingredients, producing a silky batter that bakes flawlessly. A favourite among bakers for generations, Swans Down Cake Flour consistently yields excellent results that endure time.
Paterson Flour
Quality
Variety
Availability
Price
Canadian flour brand in Manitoba
Paterson has been making flour for over 100 years. It began in Brandon, Manitoba, and became one of Canada's top flour makers. They're all about finding the finest wheat and grains for their products. Paterson creates delicious and nutritious flour that Canadians can enjoy.
Their All Purpose Flour is popular. Made from high-quality wheat, it's a versatile choice for baking. Its high protein and smooth texture makes it perfect for tasty bread, cakes, and pastries. Both expert bakers and home cooks prefer this dependable flour because it has been carefully milled for superior quality and performance.
Golden Temple Flour
Quality
Variety
Availability
Price
Atta flour in Canada
Golden Temple creates amazing atta flour and related products. The company became famous for its outstanding taste and quality. As time passed, Golden Temple expanded its offerings to include various flours, baking mixes, cereals, and other helpful items.
Known for its top-notch quality and flavour, Golden Temple Flour delights taste buds with traditional stone-grinding techniques that produce tasty and nutritious flours. Chapati flour, beloved by home bakers and skilled chefs alike, is famous for its ability to make light, tender breads.
In addition, Golden Temple offers an impressive range of other flours like whole wheat, spelt, and rye. These are ideal for making breads, pastries, and a variety of baked goods.