Motorcycles are versatile modes of transportation, carrying people from point A to point B. Sporting two wheels and traditionally powered by gasoline engines, recent advancements have led to a surge in electric motorcycle popularity. These marvellous machines come in all shapes and sizes, from compact scooters to touring bikes.
Motorcycles can weave through congested traffic and bustling areas easily. Typically more budget-friendly than cars and requiring less upkeep, these motor vehicles embody a sense of liberty and adventure for many people. The open road becomes their playground as they revel in the exhilaration of the ride.
The best motorcycle brands in Canada contain several essential features. A sturdy design is vital, supported by a well-crafted frame and quality components. Comfort should not be overlooked either; an amply cushioned seat and ergonomic handlebars make for enjoyable riding experiences. Furthermore, safety reigns supreme. Top-tier bikes have effective brakes, agile handling, and security measures to minimize risk.
Find the perfect ride with our list of the best motorcycle brands in Canada.
What makes the best motorcycle brands?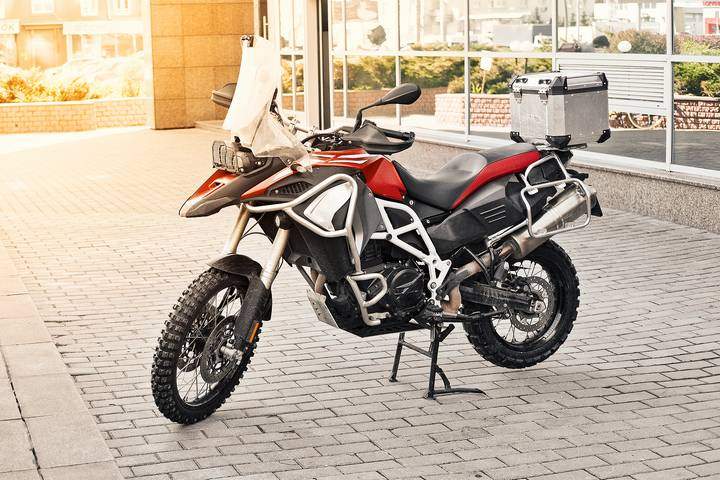 We'll judge the best motorcycle brands in Canada based on these four criteria:
Performance
Performance dictates how effectively a bike tackles diverse riding situations. Key indicators like acceleration, maximum speed, and handling contribute to the overall biking experience. The best motorcycle brands must offer models that exhibit consistent performance irrespective of the landscape or riding conditions, guaranteeing rider safety and satisfaction.
Comfort
Comfort plays a vital role for the best motorcycle brands because a poorly designed bike can make the riding experience unpleasant for the rider. The leading motorcycle brands should present models that offer a comfortable ride, with a cushioned seat, ergonomic handlebars, and easily accessible controls. An agreeable motorcycle ensures a more relaxing ride, amplifies the overall experience, and alleviates fatigue – making lengthy rides enjoyable.
Reliability
Reliability assesses bike performance over an extended period. A dependable motorcycle must possess a well-structured frame and superior components with minimal chances of breakdown or mechanical failure. A reliable bike is crucial for rider safety since it lowers the likelihood of mishaps or incidents on the road. Reliability is essential for financial stability as it reduces long-term maintenance and repair expenses.
Customization
Customization enables riders to tailor their motorcycles to their liking and create an extraordinary riding experience. The best motorcycle brands in Canada provide customizable models, allowing riders to add or remove aftermarket accessories such as exhaust systems, handlebars, and seats. Customization will enable riders to adapt their bikes according to their needs and preferences.
List of best motorcycle brands in Canada
Harley-Davidson
Performance
Comfort
Reliability
Customization
Best motorcycle brand in Canada
Harley-Davidson is a legendary motorcycle brand that captures hearts worldwide. This motorcycle brand possesses an impressive and colourful history. Established in Milwaukee, Wisconsin, this motorcycle company epitomizes freedom, adventure, and quintessential American artisanship. Over the years, Harley-Davidson has expanded its reach globally and secured a robust presence in Canada while cultivating a loyal fan base of avid enthusiasts.
Harley-Davidson motorcycles are celebrated for their unmistakable design, powerful performance, and characteristic roar emitted by their V-twin engines. Harley-Davidson carries on its proud heritage by crafting heavyweight cruiser motorcycles that elicit fond memories and stoke wanderlust in those who ride them.
As soon as you mount a Harley-Davidson bike, you're instantly imbued with an intimate connection to the road and a heightened feeling of empowerment. These motorcycles are meticulously engineered to deliver an electrifying riding experience that seamlessly melds performance, comfort, and style. With their striking design features – such as the vintage cruiser aesthetic, gleaming chrome accents, and symbolic logo – Harley-Davidson bikes leave a memorable mark on passers-by as they showcase their exceptional prowess on streets far and wide.
Indian Motorcycle
Performance
Comfort
Reliability
Customization
Best American motorcycle brand in Canada
Indian Motorcycle is a distinguished brand cherished by motorcycle enthusiasts across Canada. Initially founded in Springfield, Massachusetts, Indian Motorcycle rapidly became prominent in the motorcycle realm. The company's legacy is deeply rooted in innovation, impeccable craftsmanship, and an unwavering bond with American motorcycling. Polaris Industries owns Indian Motorcycle and continues to preserve its lineage while introducing a contemporary assortment of motorcycles that fuse classic aesthetics with state-of-the-art technology.
Indian Motorcycle's dedication to quality and precision is visible in every aspect of their motorcycles. Upon laying eyes on an Indian Motorcycle, one is instantly enchanted by its ageless design, honouring the brand's storied past. Motorcycles exhibit sophisticated lines, top-notch finishes, and iconic attributes that differentiate them from others. Equipped with potent engines, polished performance, and cutting-edge features, their motorcycles offer an ideal fusion of power, manoeuvrability, and comfort.
Indian Motorcycle has garnered a devoted fan base among riders who acknowledge the brand's commitment to exceptional craftsmanship and its capacity to evoke nostalgia. The motorcycles radiate a sense of pride and distinctiveness, enabling riders to showcase their individual style and create an impression on the road. With its captivating history and unwavering dedication to excellence, Indian Motorcycle continues to enchant riders throughout Canada and across the globe.
BMW Motorrad
Performance
Comfort
Reliability
Customization
Best Japanese motorcycle brand in Canada
BMW Motorrad is a prominent name among motorcycle lovers in Canada. As a subsidiary of the famous car brand BMW Group, BMW Motorrad has spent decades perfecting the art of designing and crafting motorcycles. It's evident in every facet of their bikes that the company's dedication to precision and quality is unwavering, reflecting their continuous pursuit of excellence. Emphasizing performance, technology, and visual appeal, BMW Motorrad has solidified its position as a dominant player in the motorcycle industry. It has captivated riders with its unique designs and groundbreaking features.
BMW Motorrad is well-known for its outstanding engineering and technological strides. BMW Motorrad motorcycles have gained fame for their awe-inspiring performance abilities, providing exhilarating rides on bustling city streets and sprawling highways alike. The brand's enthusiasm for pushing the innovation envelope is apparent in its cutting-edge features, including adaptive suspension systems, intricate electronics, and avant-garde engine technology. These components operate harmoniously to offer riders a smooth and exciting two-wheel experience.
Additionally, BMW Motorrad recognizes the value of rider comfort and has made considerable advancements. With ergonomically crafted seating arrangements, adjustable windshields, and superior suspension systems, BMW Motorrad motorcycles strike a balance between rider comfort and performance. The company's devotion to constructing enjoyable motorcycles has earned them a devoted fanbase among Canadian riders who value both the performance and comfort aspects of their bikes.
Suzuki
Performance
Comfort
Reliability
Customization
Famous Japanese motorcycle brand in Canada
Suzuki boasts a storied past and a commanding presence in the industry. With a heritage over many decades, Suzuki has emerged as a trusted moniker associated with dependability, stellar performance, and innovation. Born in Japan, Suzuki's motorcycles earn broad admiration for their extraordinary engineering, long-lasting build, and state-of-the-art technology.
Over time, Suzuki motorcycles have gained a reputation for being steadfast and long-lasting, endearing them to riders all over the country. Whether skillfully manoeuvring through bustling city streets or smoothly tackling extensive voyages, Suzuki motorcycles consistently provide dependable performance on which riders can count. This trustworthiness encompasses various facets, such as engine prowess, longevity, and overall functionality. Motorcyclists cherish the sense of security of owning a Suzuki bike, confident in their Motorcycle's ability to perform consistently.
Beyond reliability, Suzuki motorcycles meld outstanding performance with remarkable versatility. From agile sports bikes to robust cruisers and adept adventure motorcycles, Suzuki presents a diverse selection catering to an extensive array of riding preferences and styles. Riders crave a Suzuki motorcycle's exhilarating speed, nimble handling, and cozy touring amenities. By seamlessly blending formidable performance with dependability and adaptability, Suzuki has firmly cemented its position among the top motorcycle brands in Canada.
Yamaha Motor
Performance
Comfort
Reliability
Customization
Popular Japanese motorcycle brand in Canada
Yamaha Motor celebrates an illustrious history and substantial influence within the motorcycle sector. With a rich legacy spanning numerous decades, Yamaha Motor has positioned itself as a top-tier manufacturer recognized for its ingenuity, prowess, and unwavering devotion to motorcycle design. Yamaha Motor has consistently crafted motorcycles that enchant riders with exceptional engineering, cutting-edge technology, and meticulous attention to detail. The company's dedication to quality is apparent in each Motorcycle they bring to life.
Yamaha motorcycles are admired for their remarkable performance, power, and reactivity. From high-octane sport bikes to adaptable street motorcycles and robust adventure bikes, Yamaha presents an assortment of options catering to riders with varying skills and tastes. The outstanding engineering and inventive features embedded in Yamaha motorcycles contribute to a thrilling riding experience, empowering riders to unleash their ardour for the open road.
Beyond their impressive performance, Yamaha motorcycles are also celebrated for their durability and dependability. Yamaha motorcycles consistently exhibit resilience and unwavering performance. This steadfastness encompasses every facet, including the engine, suspension, and overall build quality. Yamaha Motor's dedication to reliability ensures that riders can confidently embark on their adventures.
Damon Motorcycles
Performance
Comfort
Reliability
Customization
Best electric motorcycle brand in Canada
Damon Motorcycles is a rising star in Canada's motorcycle scene. It has successfully carved a niche for itself in electric motorcycle innovation. Hailing from Vancouver, British Columbia, this Canadian brand is fueled by the ambition to transform our perception and experience of electric motorcycles. Bolstered by a skilled team of engineers and designers, Damon Motorcycles reshapes electric mobility standards by concentrating on state-of-the-art technology, pioneering safety features, and trailblazing design.
Capitalizing on electric propulsion, the company has crafted a new performance and sustainability benchmark. Their motorcycles afford exhilarating acceleration and torque that rival conventional combustion engines while offering thrilling rides. Furthermore, Damon Motorcycles emphasizes rider comfort and ergonomics, guaranteeing smooth and enjoyable travels on any road type. Equipped with features such as customizable riding positions, intelligent connectivity, and cohesive safety systems, Damon Motorcycles raises the bar for contemporary riders desiring an ideal fusion of performance, comfort, and eco-friendly transportation.
MV Augusta
Performance
Comfort
Reliability
Customization
Best Italian motorcycle brand in Canada
MV Agusta is a celebrated motorcycle brand in Canada with Italian roots. It has enchanted bike enthusiasts worldwide with its superb artistry and racing lineage. Birthed in Cascina Costa, Italy, MV Agusta's rich heritage stretches across decades. The company's motorcycles are acclaimed for their striking design, impressive performance, and groundbreaking technology. MV Agusta has solidified its reputation as an emblem of sophistication, luxury, and high-powered motorcycles epitomizing Italian engineering prowess.
Each motorcycle by MV Agusta stands as a true embodiment of the brand's dedication to excellence and passion for precision. Every bike is an artistic and engineering marvel, painstakingly handcrafted to perfection. With an emphasis on performance, MV Agusta motorcycles offer invigorating power, unparalleled handling, and an electrifying riding experience. The brand's keen eye for detail is apparent in all aspects — from the exact engineering of the engine and frame to the meticulously sculpted bodywork. Every MV Agusta motorcycle presents itself as a work of art that performs impeccably on the road and garners attention with its striking visual appeal.
Aprilla
Performance
Comfort
Reliability
Customization
Famous Italian motorcycle brand in Canada
Aprilia is a distinguished motorcycle brand from Noale, Italy. The company has built its reputation over several decades as an emblem of Italian excellence within the motorcycle sphere. Born from a love for racing and innovation, Aprilia has continually broken through the limits of performance and design. The brand maintains a commanding presence in the worldwide motorcycle market, celebrated for its high-performance motorcycles, triumphant racing history, and state-of-the-art technology.
Aprilia motorcycles stand out as true pinnacles of performance. The brand's dedication to racing is evident in its street-legal models, leading to bikes that offer breathtaking power, pinpoint handling, and unparalleled performance on both track and road. Ranging from sportbikes to naked bikes, Aprilia motorcycles are meticulously crafted to deliver electrifying experiences. With formidable engines, sophisticated suspension systems, and aerodynamic features that enhance speed and manoeuvrability, Aprilia creates two-wheeled adventures like no other.
Ducati
Performance
Comfort
Reliability
Customization
Popular Italian motorcycle brand in Canada
Ducati has a rich legacy of crafting exceptional motorcycles that meld performance, aesthetics, and technological ingenuity. Birthed in Bologna, Italy, Ducati has cemented its status as an emblem of zeal, accuracy, and an unwavering quest for superiority. With origins tracing back to the early 1900s, Ducati has metamorphosed into a globally acclaimed brand, recognized for its legendary motorcycles and triumphant racing achievements. The company's devotion to engineering brilliance and high performance has garnered a loyal following of fans and riders who relish Ducati's essence.
Ducati motorcycles are celebrated for their inimitable design, electrifying performance, and state-of-the-art technology. Each Ducati iteration epitomizes a seamless fusion of style and purpose. It is marked by meticulous attention to detail and the streamlined form distinguishing them from their rivals. From the rumbling might of their engines to the agile handling and precise control, Ducati motorcycles provide a pulse-pounding riding escapade. Ducati bikes demonstrate unmatched performance and agility, solidifying their position as a top choice among riders pursuing thrill and sophistication.
Husqvarna Motorcycles
Performance
Comfort
Reliability
Customization
Best Swedish motorcycle brand in Canada
Husqvarna Motorcycles, a celebrated Swedish motorcycle brand, has a rich history spanning over a hundred years. Its origins can be traced back to a weapons foundry established in 1689, which later transitioned to crafting motorcycles during the early 20th century. Currently renowned for its high-octane, featherweight off-road and motocross bikes, Husqvarna is a proud Austrian motorcycle manufacturing family KTM member.
Continually striving to shatter limits, the company develops novel features and technologies to enhance performance, manoeuvrability, and safety. For instance, cutting-edge electronic systems equip Husqvarna's latest models, empowering riders to modify their bikes' settings and fine-tune the performance for diverse terrains and riding techniques.
Vespa
Performance
Comfort
Reliability
Customization
Best scooter brand in Canada
Vespa, the epitome of Italian flair, has evolved into an emblem of stylish and enduring scooters over the years. Born in 1946 in Florence, Italy, under the esteemed Piaggio company, Vespa quickly garnered widespread appreciation. It emerged as an icon of remarkable Italian craftsmanship and design. Distinguished by their stylish smooth lines and timeless appeal, Vespa scooters are recognizable worldwide. Unwavering in its commitment to creating exceptional scooters imbued with elegance, performance, and practicality, Vespa remains a frontrunner in the industry.
Nothing is more sophisticated and charming than Vespa vehicles, and riders worldwide are captivated by them. Recognized for their scrupulous attention to detail—from the delicately crafted exterior to the superior finishes and colour options available—Vespa scooters are genuine masterpieces. Riding a Vespa elevates travel beyond simply getting from point A to point B; instead, it delivers a unique experience that embodies style and timeless refinement.
Royal Enfield
Performance
Comfort
Reliability
Customization
Top British motorcycle brand in Canada
Royal Enfield boasts a rich legacy tracing back to 1901. Established in Redditch, United Kingdom, Royal Enfield has earned its reputation as one of the oldest motorcycle manufacturers globally. The brand is steeped in history and has gained recognition for creating motorcycles that harmoniously fuse vintage design elements with cutting-edge technology.
Royal Enfield motorcycles are known for their enduring design. The brand derives inspiration from its antique models, weaving classic aesthetics seamlessly into its contemporary selection. From emblematic fuel tank silhouettes to retro-style gauges, Royal Enfield motorcycles radiate nostalgic charm and conjure memories of a bygone motorcycling era. The brand preserves its prestigious heritage and incorporates technological innovations, resulting in motorcycles that provide a unique riding experience. Royal Enfield motorcycles offer a relaxed and cozy ride, rendering them perfect for urban commutes.