Being an astronaut is a captivating voyage of space exploration. Astronauts can gaze upon the Earth from a cosmic perspective, feel weightlessness, and conduct groundbreaking experiments. The best astronauts are required to have an extraordinary balance of physical fitness, mental toughness, and a yearning to unveil the unknown. They have the opportunity to expand the limits of human comprehension while also inspiring future generations to pursue science and exploration.
Famous Canadian astronauts require proficiency in numerous disciplines. Astronauts must be versatile and highly skilled, dedicating years to honing their skills on complex spacecrafts while carrying out research in zero gravity. Additionally, they are accountable for representing humanity on a universal level, demonstrating the scientific triumphs and potential of our species. Furthermore, they must work efficiently as part of a team, often operating in solitary and high-stress scenarios, while maintaining their perseverance in the face of adversity.
Check out our list of the most famous astronauts in Canada.
What makes the best astronauts?
We'll judge the best astronauts in Canada based on these criteria:
Training
Astronaut training is crucial due to the vast array of specific skills, procedures, and equipment needed for space travel. They must master operating sophisticated systems in high-pressure, high-risk settings while staying focused and accurate.
Varied physical and mental exercises, such as spacewalks, emergency drills and handling spacecraft, robotics, and life support systems are involved in the training process. Without thorough preparation, astronauts would be unable to carry out their tasks safely and efficiently in space.
Fitness
Physical fitness is another essential aspect for astronauts because space missions put considerable strain on the human body. Being in top physical shape helps them endure launch and landing stresses as well as long durations of weightlessness, which may lead to muscle and bone loss or cardiovascular alterations. Staying fit through regular workouts, a balanced diet, and medical supervision ensures that astronauts can perform optimally in space.
Adaptability
The ability to adapt plays a significant role in astronaut success as space travel is highly unpredictable. Quick adaptation to sudden emergencies or malfunctions is necessary, along with resourceful thinking and on-the-spot problem-solving. The best astronauts must also adjust to living and working in confined spaces for extended periods while handling any psychological pressures arising from isolation.
Communication
Effective communication is vital for astronauts since it greatly impacts the outcome of space missions. Clear exchanges between crew members, ground control personnel, and Earth-based researchers is fundamental.
The most famous Canadian astronauts can explain complex technical concepts, report on equipment status and experiments, and work harmoniously with colleagues from diverse backgrounds. Strong communication abilities are crucial for maintaining team harmony while managing stress and resolving conflicts.
List of most famous astronauts in Canada
Marc Garneau
First Canadian astronaut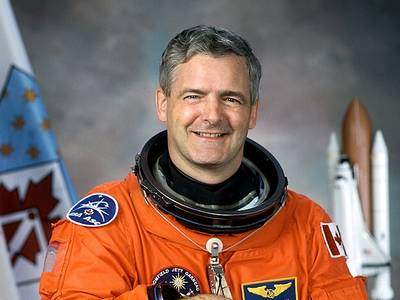 Marc Garneau created history as the first Canadian astronaut who began his first space expedition in 1984. Born under the wintry skies of Quebec City on February 23, 1949, Garneau emerged as a trailblazing Canadian astronaut, visionary engineer, and charismatic politician.
With his indelible footprint etched into Canada's space program, Garneau's academic journey took flight at the Royal Military College of Canada where he secured a Bachelor of Engineering degree. His quest for knowledge transcended borders as he pursued and obtained a Master of Science degree in electrical engineering from the prestigious Imperial College of Science and Technology in London, England.
In 1984, Garneau was chosen to represent Canada in space. As a pioneer astronaut, he soared into orbital history on October 5, 1984, aboard the Challenger space shuttle during the STS-41-G mission, making him the first Canadian to venture into space. While embarking on this celestial trek, Garneau masterfully manipulated the Canadarm robotic arm— an invaluable tool which deployed one satellite and reclaimed another. His celestial journeys spanned two more shuttle missions: STS-77 in 1996 and STS-97 in 2000. Following his extraterrestrial expeditions, he was the Canadian Space Agency president from 2001 to 2006.
Garneau's illustrious career took a terrestrial turn as he dove into Canadian politics. A stalwart Member of Parliament for the Liberal Party since 2008, he has donned various political hats including Minister of Transport, Minister of Foreign Affairs, and Minister of Innovation, Science, and Economic Development. Marc Garneau's stellar contributions to both space exploration and public service have garnered him myriad accolades such as the Order of Canada and the NASA Space Flight Medal.
Roberta Bondar
First Canadian female astronaut
Roberta Bondar is the first Canadian female astronaut. She was born on December 4, 1945, in Sault Ste. Marie, Ontario. She has gracefully adorned multiple roles as an astronaut, neurologist, and photographer.
As the pioneering Canadian woman to conquer the realm of space, Bondar acquired a Bachelor of Science degree from the University of Guelph and delved deeper into neurobiology with a PhD from the University of Toronto. Her research revolved around deciphering the effects of spaceflight on the intricate nervous system and eventually led her to teach neurology at the University of Western Ontario.
In 1983, destiny chose her to be part of the Canadian astronaut program, and nine years later in 1992, she soared into the cosmos aboard the space shuttle Discovery as a payload specialist for the STS-42 mission. During her exhilarating eight-day odyssey, Bondar meticulously conducted experiments to unravel how microgravity influences humans as well as flora and fauna.
Upon bidding adieu to the Canadian Space Agency, she embraced her fervor for photography by honing her skills with nature and environmental subjects. Not merely capturing breathtaking images, Bondar also devotes herself to education and public outreach. She uses her expertise in photography and eloquence in public speaking to nurture scientific and environmental consciousness.
Julie Payette
Famous astronaut from Montreal
Hailing from Montreal, Quebec, Julie Payette is an esteemed Canadian astronaut, engineer, and former Governor General of Canada. She earned her Bachelor of Electrical Engineering degree at McGill University in 1986 before pursuing a Master of Applied Science degree in computer engineering at the University of Toronto in 1990.
A veteran of two NASA space shuttle missions—STS-96 in 1999 and STS-127 in 2009—Payette expertly operated the Canadarm2 robotic arm and executed maintenance activities beyond the confines of the International Space Station as a flight engineer.
Beyond her impressive career as an astronaut, Payette shines as a gifted pianist, vocalist, and famous athlete. Her accomplishments have been recognized with numerous accolades such as the Officer of the Order of Canada, the NASA Exceptional Service Medal, and the Queen Elizabeth II Diamond Jubilee Medal.
Through her unwavering passion for science, technology, and innovation, Payette has motivated countless aspiring Canadians. Her extraordinary contributions to space exploration and public service have rightfully cemented her status as a true Canadian icon.
Chris Hadfield
Famous astronaut from Sarnia
Chris Hadfield is a famous Canadian astronaut, engineer, and writer. He is recognized for his trio of space missions—two aboard the Space Shuttle and one as the premier Canadian commander of the International Space Station. His contributions to space technology make him one of the most admirable Canadian inventors.
Hailing from Sarnia, Ontario, Hadfield secured himself a Bachelor of Engineering degree at the distinguished Royal Military College in 1982. His thirst for knowledge continued at the US Air Force Test Pilot School and the University of Tennessee where he achieved Master of Science degrees in both Aviation Systems and Mechanical Engineering.
Over a 21-year odyssey with the Canadian Space Agency, Hadfield manifested himself as an extraordinary astronaut, accumulating nearly 4,000 hours in space and contributing to over 70 scientific investigations. He also gained popularity for his enthralling public outreach endeavors, such as his much-loved YouTube videos, social media updates, and thought-provoking TED talks—all stimulating a new wave of space aficionados.
Besides his achievements as an astronaut, Hadfield has showcased an artistic flair as a talented musician and writer. His musical repertoire includes numerous albums, one featuring a rendition of David Bowie's Space Oddity, performed aboard the ISS which took the internet by storm.
Bjarni Tryggavason
Famous Canadian astronaut from Iceland
Bjarni Tryggvason has etched an unforgettable legacy in the spheres of space exploration and scientific pursuit. Originating from the vibrant city of Reykjavik, Iceland, Tryggvason achieved an engineering physics Bachelor of Science degree at the illustrious University of British Columbia in 1975. Undeterred by his hunger for knowledge, he ventured forth to obtain a Master of Science degree in aeronautics and astronautics from the esteemed Stanford University in 1977.
As an esteemed member of the Canadian Space Agency, Tryggvason embarked on the STS-85 space shuttle mission in 1997. As a payload specialist, he tackled experiments spanning materials science, biology, and physics. His expertise extends to numerous space endeavors, such as crafting the Canadarm2 robotic arm and devising the Space Vision System that guided astronauts during their extravehicular exploits.
Tryggvason has flourished as a distinguished academic and researcher with a focus on fluid mechanics and aerodynamics. A vast array of scientific publications bears his name, accompanied by accolades such as the Order of Canada and NASA's Exceptional Service Medal.
Bjarni Tryggvason's trailblazing pursuits in both space exploration and research have ignited the passion of countless Canadians and global citizens to chase their dreams and influence the world positively. His accomplishments as an astronaut and scientist have broadened our comprehension of the cosmos and our position within its vast expanse.
Dayfdd Williams
Famous astronaut from Penticton
Born in the heart of Saskatchewan, David Williams shines as a distinguished Canadian astronaut, physician, and engineer. With a solid foundation—a Bachelor of Science degree in physiology from McGill University obtained in 1976—Williams set his sights on a Doctorate in Medicine at the University of Toronto and a Master of Science in neuroscience from the University of London.
Throughout his 14-year journey at the Canadian Space Agency, Williams voyaged to the cosmos on two space shuttle missions as a mission specialist, amassing over 687 hours among the stars. While traversing the celestial realm, he spearheaded numerous scientific experiments involving human physiology and space medicine, dramatically expanding our understanding of microgravity's influence on the human body.
Williams has also flourished as a medical doctor and researcher in the fields of neurology and ophthalmology. With an assortment of scientific publications to his name, he has reaped prestigious accolades such as the Order of Ontario and the Order of Canada.
Steve MacLean
Famous astronaut from Ottawa
Steve MacLean originates from the charming city of Ottawa in Ontario. Embarking on his educational odyssey, he earned a Bachelor's degree in Physics from York University in Toronto in 1977 and went on to secure a Master's degree and a Ph.D. in Physics from the esteemed University of British Columbia.
MacLean's stellar journey in space exploration ignited when he entered the Canadian Astronaut Program in 1983. Owing to his extraordinary abilities, he was handpicked as a Payload Specialist for two monumental Space Shuttle missions – STS-52 in 1992 and STS-115 in 2006. After these awe-inspiring accomplishments, he held the distinguished title of President at the Canadian Space Agency between 2008 and 2013. Under his forward-thinking guidance, the Agency underscored Canada's quest for mastery in space science, technology, and discovery.
Steve MacLean has been fittingly recognized for his outstanding contributions through numerous accolades such as the NASA Space Flight Medal, the Canadian Forces Decoration, and the Order of Canada. His trailblazing work has propelled advancements across domains like telecommunications, astronomy, and remote sensing. Furthermore, his steadfast commitment to motivating future generations of space adventurers has solidified his reputation as a beloved luminary within the Canadian space community.
Robert Thirsk
Famous astronaut from New Westminster
Robert Thirsk is a famous Canadian astronaut, engineer, and physician. Originating from New Westminster, British Columbia, Thirsk embarked upon his scholastic pursuits with a Bachelor of Science in mechanical engineering from the University of Calgary in 1976 before delving into a Doctorate in medicine from McGill University and a Master of Science in mechanical engineering from MIT.
Across two remarkable decades, Thirsk's stellar career at the Canadian Space Agency witnessed his involvement in two pioneering space expeditions. During his second mission, he inhabited the International Space Station for six months, establishing a record for the longest single spaceflight by a Canadian astronaut. Amidst this extensive sojourn, he conducted crucial scientific experiments aimed at deciphering human health and sustainable existence beyond Earth.
In addition to his awe-inspiring accomplishments in space, Thirsk has demonstrated his prowess as an eminent physician and researcher with a fervent passion for telemedicine and remote healthcare. His work's profound influence has been recognized through multiple accolades, including the illustrious Order of Canada and Queen Elizabeth II Diamond Jubilee Medal.
Joshua Kutryk
Famous astronaut from Fort Saskatchewan
Joshua Kutryk has made a profound impact on the realm of space exploration and scientific discovery. Hailing from the quaint town of Fort Saskatchewan in Alberta, Kutryk boasts a degree in Mechanical Engineering from the esteemed Royal Military College of Canada and a Master's in Space Studies from the prestigious International Space University in Strasbourg, France.
As a member of the Canadian Armed Forces and distinguished graduate of the United States Air Force Test Pilot School, Kutryk has soared through the skies in more than 30 varieties of aircraft – from nimble fighter jets to mighty helicopters. His role as a test pilot led him on thrilling adventures in evaluating cutting-edge military technologies and shaping innovative aerospace systems.
Kutryk's unquenchable thirst for space spurred him to become part of the Canadian Space Agency's astronaut program in 2017. Since embarking on this cosmic journey, he has undergone rigorous training for upcoming space missions and lent his expertise to an array of projects – ranging from designing lunar rovers to putting spacesuits through their paces. Furthermore, Kutryk delves deep into scientific research, with an emphasis on remote sensing and data analysis.
Garnering recognition for his exceptional accomplishments, Kutryk has been awarded both the Canadian Armed Forces Meritorious Service Medal and the United States Air Force Commendation Medal. His achievements ignite dreams within young Canadian scientists and future astronauts.
Jeremy Hansen
Famous astronaut from London
Emanating from London, Ontario, Jeremy Hansen shines as a famous Canadian astronaut, military pilot, and engineer. His celestial voyage commenced after obtaining a Bachelor of Science in Space Science from the Royal Military College in 1997 and a Master of Science in Physics from the University of Western Ontario in 1999.
With an impressive 3,000 hours spent soaring the skies, Hansen has worn many hats as both a CF-18 fighter pilot and a flight instructor for the Canadian Armed Forces. In 2009, he transitioned to become an invaluable member of the Canadian Space Agency.
As an astronaut, Hansen has immersed himself in rigorous training sessions encompassing spaceflight, robotics, and scientific experimentation. He has participated actively in numerous ground-based simulations and parabolic flight campaigns. His remarkable prowess in space robotics has earned him accolades like the Canadian Space Agency's prestigious Chris Hadfield Trophy for Outstanding Performance in Extravehicular Activity.
Beyond his interstellar pursuits, Hansen's fervor for science, technology, engineering, and mathematics (STEM) education is palpable. He ardently strives to ignite passion and foster inspiration within the future generation of Canadian space explorers.