Embodying an Asian Canadian identity entails a harmonious fusion of Asian and Canadian traditions, customs, and values. This multifaceted identity is often moulded by growing up in a land that embraces multiculturalism, while simultaneously wrestling with racial and discriminatory issues. Asian Canadians may balance the act of preserving their treasured cultural heritage whilst blending into Canadian society.
Regardless of the obstacles, being an Asian Canadian can instil dignity and fortitude. As a minority group facing historical and ongoing prejudice, Asian Canadians have made substantial contributions to Canadian society. Their achievements span various areas such as science, technology, and the arts – all of which contribute to the nation's vibrant cultural tapestry. Moreover, being an Asian Canadian entails possessing a rich historical and cultural lineage that can be proudly shared with fellow Canadians.
Famous Asian Canadians include Emmy-winning actress Sandra Oh, recognized for her performances in Grey's Anatomy and Killing Eve; revered environmentalist David Suzuki; esteemed actor Steven Yeun who gained fame through his role on The Walking Dead; and comedian Lilly Singh. These remarkable personalities, alongside countless others, have significantly enriched Canada's culture and society. In addition, they serve as beacons of inspiration for the upcoming generations of Asian Canadians.
Check out our list of the most famous Asian Canadians.
Who are Asian Canadians?
An Asian Canadian may describe the following cultural groups:
East Asian Canadians
Canada's East Asian populations encompassing Chinese, Japanese, Korean, and Taiwanese heritage. Spanning generations of Canadian families alongside more recent arrivals, these communities significantly impact the nation's landscape.
In bustling urban centres like Toronto and Vancouver, East Asians represent one of the largest visible minority groups. They enrich Canadian society through entrepreneurship, the arts, and the sciences.
Southeast Asian Canadians
Southeast Asians – with origins in Vietnam, Cambodia, Laos, Thailand, Indonesia, and the Philippines – similarly contribute to Canada's diverse tapestry. Often arriving as refugees seeking solace from conflict and persecution, these resilient individuals have cultivated dynamic neighbourhoods across the nation. Their vibrant customs, tantalizing foods, and captivating art have elevated Canadian culture but also woven distinct threads into the multicultural fabric.
South Asian Canadians
Originating from India, Pakistan, Bangladesh, and Sri Lanka, South Asians comprise another substantial visible minority group in Canada. Tracing back to immigrants in the late 1800s, South Asians hold a rich historical presence in the country.
Today, they are an essential component of Canadian society – making invaluable contributions to medicine, engineering, business, and the arts. South Asian culture flavours Canada's culinary scene while enhancing fashion trends, musical expressions, and literary works.
Mixed Asian Canadians
Canada welcomes a diverse range of Central Asian, West Asian, and Southeast Asian immigrants from countries like Afghanistan, Iran, Iraq, Turkey, Mongolia, and Uzbekistan. Although numerically modest compared to other groups, the impact made by these communities on Canadian society is considerable. Their distinctive cultures and cherished traditions contribute greatly to Canada's abundant diversity.
List of Famous Asian Canadians
Sandra Oh
Famous Asian Canadian actress from Nepean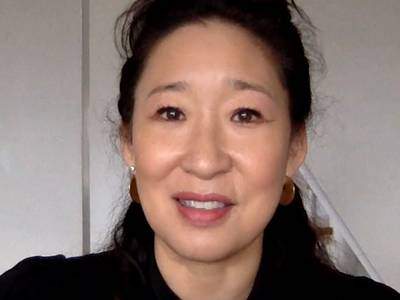 Sandra Oh, a famous Asian Canadian actress, originates from Ottawa, Ontario. Born into a family of Korean immigrants who established a thriving clothing enterprise, she blossomed amidst the vibrant blend of Korean and Canadian cultures. Sandra graced the distinguished National Theatre School of Canada in Montreal with her talent before venturing to Los Angeles to chase her acting dreams.
Oh's portrayal of Cristina Yang on Grey's Anatomy—a widely celebrated medical drama—catapulted her into stardom. Over ten captivating seasons, she scooped up numerous accolades, including a Golden Globe and Emmy nomination. Beyond Grey's Anatomy, Sandra has showcased her acting prowess in a myriad of TV shows and films. These include Arli$$, Sideways, and the enthralling Killing Eve. This earned her another Golden Globe and Emmy nod. Always compassionate, Oh extends her impact beyond the screen through her support for refugee organizations.
Embracing her Korean-Canadian identity, Sandra candidly shares her experiences with racism and prejudice within the entertainment realm. Unafraid to address Hollywood's diversity shortcomings, she advocates for increased representation of Asian Americans in film and television. She is proud of how her Korean heritage has shaped her personal and professional lives.
Lilly Singh
Famous Asian Canadian actress from Scarborough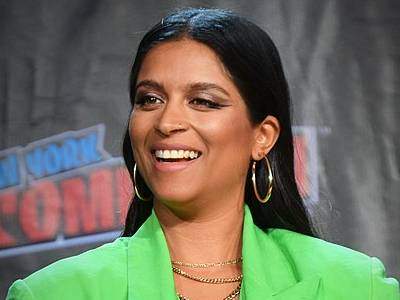 Lilly Singh, a brilliant Canadian actress, comedian, and talk show host, was born and bred in Scarborough, Ontario. Her parents travelled from Punjab, India, for a better life. Growing up in Canada, Lilly faced discrimination and bullying due to her heritage, leading her to struggle with depression—an ordeal she's candid about.
With passion and persistence, Singh embarked on her career as a YouTube sensation under the moniker "IISuperwomanII." Her hilarious skits and parodies quickly amassed a massive fanbase, boasting more than 14 million subscribers. Lilly acted and hosted in films like Bad Moms and A Trip to Unicorn Island. She also appeared in Fahrenheit 451 and A Little Late with Lilly Singh. This achievement marked her as the first woman of colour to host a major late-night talk show.
Beyond entertaining audiences worldwide, Singh champions mental health awareness and diversity and inclusion in showbiz. Proudly reflecting her Indian-Canadian identity, she openly shares her journey of harmonizing South Asian traditions with Canadian values—all while infusing this cultural blend into her legendary comedic productions.
Simu Liu
Famous Asian Canadian actor from Mississauga
Simu Liu is a famous Canadian actor. He has made a name for himself both on and off the screen. This is through his remarkable achievements in film and television. Originally born in China, Liu spent his formative years in Mississauga, Ontario before pursuing finance at the prestigious University of Western Ontario. Undeterred, he could not resist his true passion: acting. As an Asian Canadian, Liu has experienced a great deal of racism and discrimination throughout his life. With candour and courage, he encourages a more inclusive and diverse entertainment industry by sharing his own struggles.
Liu embarked on his acting odyssey with modest beginnings in television series like Nikita and Beauty and the Beast. This modest start soon blossomed into him securing a consistent role on Kim's Convenience, CBC's hit television show. Eventually, 2019 ushered in monumental news for Liu, as he captured the lead role in the Marvel Cinematic Universe's groundbreaking film Shang-Chi and the Legend of the Ten Rings. This cinematic feat marked the introduction of the MCU's first Asian superhero movie. Upon its release in 2021, critics praised Liu for his charisma.
A steadfast champion of change, Simu Liu confronts Hollywood's narrow stereotypes as an Asian Canadian actor. Intensely committed to breaking barriers, Liu recounts personal incidents of typecasting as awkward or nerdy Asian characters. He advocates for more nuanced roles for actors like him. Equally significant is his quest to navigate both Canadian and Chinese identities harmoniously – a balance he fervently strives to achieve in his craft.
Russell Peters
Famous Asian Canadian comedian from Toronto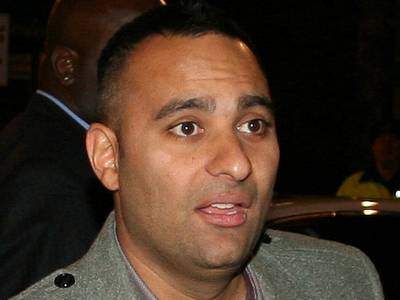 Russell Peters, a Canadian comedian and actor, was born in Toronto of Anglo-Indian and Parsi heritage. Growing up in Brampton, Ontario, a suburb of Toronto known for its considerable South Asian population, Peters embarked on his stand-up comedy career. He performed at numerous clubs and open mics throughout Toronto, earning a following for his amusing commentary on race and ethnicity. This was based on his own multicultural upbringing.
In the early 2000s, Peters' career took a significant leap as he gained recognition on both Canadian and American television shows. He launched several popular comedy specials such as Outsourced and Red, White, and Brown. Both were filmed before live crowds in Canada and the United States. Alongside his stand-up acts, Peters has appeared in movies like The Jungle Book and Source Code as well as television series such as The Indian Detective and Life in Pieces.
Peters, a South Asian comedian, often weaves aspects of his cultural background into his stand-up routines. He shares stories about growing up feeling like an outsider while using comedy to bridge cultural gaps and foster understanding. His work is lauded for its capacity to entertain and enlighten audiences, making him a trailblazer for South Asian humour reaching wider audiences.
David Suzuki
Famous Asian Canadian scientist from Vancouver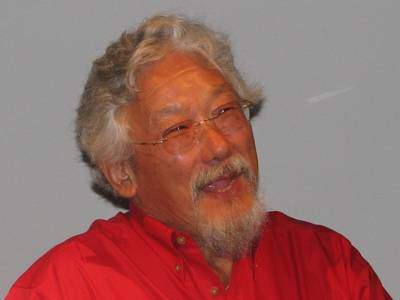 Born in 1936 in Vancouver, David Suzuki became a distinguished Canadian scientist of Japanese descent and an ardent environmentalist. The tumultuous World War II saw his family, along with many other Japanese-Canadians, deemed a security threat and forcibly relocated to an internment camp nestled in British Columbia's rugged interior.
Undeterred by adversity, Suzuki pursued academic excellence, earning a PhD in Zoology from the prestigious University of Chicago. Upon returning to his homeland, he adorned the University of British Columbia with an illustrious professor career and founded Canada's first-ever genetics department. His groundbreaking research on fruit flies provided invaluable insights into genetics.
Suzuki's environmental activism was sown in the 1970s when he graced Canadian television screens with his enthralling science program, The Nature of Things. As an emblematic figure in Canada's environmental movement, he espouses sustainable living and unwavering stewardship of our beloved Mother Earth. Applauded for his commitment to science and the environment, numerous accolades have been bestowed upon him. These accolades include the United Nations Environment Programme's Global 500 award, the Kyoto Prize, and the Order of Canada.
Wearing his Japanese-Canadian identity proudly, Suzuki champions diversity while encouraging the appreciation and celebration of distinct cultures. A staunch advocate for justice, he speaks vehemently against Japanese-Canadian historical wrongs during World War II and ardently calls for reconciliation and reparations.
Jagmeet Singh
Famous Asian Canadian politician from Ontario
Jagmeet Singh, a captivating Canadian politician and lawyer, currently leads the New Democratic Party (NDP) in Canada with vigour. Born in Scarborough, he comes from one of the most diverse cities in Canada. He is the proud son of Punjabi Sikh immigrant parents who managed an ecstatic small business.
Growing up in Windsor, Ontario, Singh's journey traversed through high school before pursuing a bachelor's degree in biology at the University of Western Ontario and ultimately obtaining his law degree from York University's esteemed Osgoode Hall Law School.
Upon finishing his law degree, Singh ventured into criminal defence law in the bustling Greater Toronto Area. His political career took flight in 2011 when he was elected as a Member of Provincial Parliament (MPP) for Ontario, representing Bramalea-Gore-Malton. With two successful re-elections under his belt, Singh served as Deputy Leader of the Ontario NDP from 2015 to 2017. In an historic moment, he secured his role as federal NDP leader in 2017. This made him Canada's first-ever person of color to hold a leadership position in a prominent political party.
Throughout his political career, Jagmeet Singh has woven his Punjabi Sikh identity and cultural heritage into a tapestry of advocacy on behalf of Sikh and South Asian communities across Canada. He has not shied away from tackling challenging topics such as racism, discrimination and hate crimes. Beyond this specific focus, Singh has championed broader minority issues-lifting Indigenous peoples and LGBTQ+ communities. Singh often calls out racism and xenophobia entrenched within Canadian society.
Patrick Chan
Famous Asian Canadian athlete from Ottawa
Born on December 31, 1990, in Ottawa, Ontario, Patrick Chan is a celebrated Canadian figure skater who has since retired. Of immigrant parents from Hong Kong, Chan was raised in a household that owned a business in Ottawa. To keep him occupied during winter months, his parents introduced him to skating, which eventually revealed his innate talent in the sport.
Under esteemed coach Osborne Colson, Chan developed into an exceptional skater and champion in Canada. This famous Canadian athlete claimed numerous national titles and continued to compete on the global stage before retiring in 2018. His remarkable achievements include three Olympic medals and multiple world championship titles.
Throughout his illustrious career, Chan garnered acclaim for his graceful performances that fused elegance, artistry, and technical prowess. His ability to harmonize classical music with contemporary elements and distinctive skating interpretations left lasting impressions. Beyond the rink, Chan's charismatic charm made him a beloved public figure. As a Chinese-Canadian athlete, he inspired countless youths—particularly those of Asian backgrounds—to persevere and excel in sports.
Embracing his heritage with pride, Chan aggressively promoted diversity and representation within figure skating. He openly discussed the significance of greater Asian representation in the sport. He participated in various initiatives aimed at encouraging more young people—especially those from underrepresented communities—to embrace figure skating.
Manny Jacinto
Famous Asian Canadian actor raised in Richmond
Manny Jacinto, a talented Canadian actor, is predominantly recognized for his portrayal of Jason Mendoza in the popular TV series The Good Place. Born and bred in Vancouver, British Columbia, Jacinto is a proud descendant of Filipino immigrants and was raised in a humble, working-class family. His passion for acting blossomed in high school and led him to study theatre at Capilano University.
Post-graduation, Jacinto embarked on his acting journey in Vancouver where he graced various television shows and films, such as Supernatural and The Romeo Section. In 2016, he played Jason Mendoza in The Good Place, an exceptional comedy series that ran for four seasons on NBC. Embodying the affable yet simple-minded Mendoza, Jacinto garnered accolades from admirers and critics alike, solidifying his status as an up-and-coming Hollywood sensation.
As a Filipino-Canadian performer, Jacinto continually emphasizes the significance of representation in the entertainment industry. During interviews, he openly discusses the hindrances faced by Asian actors striving to make a mark in the industry. He also discusses the necessity for diverse, genuine narratives. Moreover, Jacinto takes immense pride in his Filipino roots and diligently uses his influence to shed light on concerns impacting the Filipino community. This includes the devastating Typhoon Haiyan in 2013.
Olivia Chow
Famous Asian Canadian mayor raised in Toronto
Olivia Chow is a distinguished Asian Canadian politician. She won the Toronto mayoral election in June 2023. Born and raised in Toronto, Chow experienced the city's dynamic atmosphere throughout her formative years. Brought up by hardworking immigrant parents from Hong Kong, she adopted a strong work ethic and a profound sense of community.
After earning a social work degree, she channelled her passion for positive change into local politics. Chow's career accelerated as she served as a Toronto City Councillor, advocating for affordable housing, environmental sustainability, and social justice. Her steadfast dedication increased her popularity, setting the stage for her groundbreaking mayoral campaign. In 2023, Chow clinched a historic victory as the first Asian woman to become Toronto mayor. Her inclusive campaign emphasized affordable housing, progressive policies, and the diverse needs of Toronto's population.
Chow's authentic connection with her constituents transcends beyond political divisions and garners widespread respect. Drawing on her immigrant background and extensive community involvement, she focuses on giving a voice to underrepresented groups. As the newly elected mayor, Chow leads Toronto towards a promising future. Her journey from modest beginnings to municipal leadership highlights this Asian Canadian's tenacity.
Grace Park
Famous Asian Canadian actress raised in Vancouver
Grace Park, a captivating Canadian actress, was born in Los Angeles, California, but blossomed in Vancouver, British Columbia. Her Korean immigrant parents instilled a love for diverse cultures. Nurturing her academic and artistic spirit, she attended Magee Secondary School and delved into psychology and theatre at the renowned University of British Columbia.
Among her illustrious career highlights, Park has wowed audiences with her compelling performances in the imaginative science fiction series Battlestar Galactica. She has also starred in the exhilarating police procedural drama Hawaii Five-0. She has also graced screens in other beloved television series such as The Border, Edgemont, and Secret Agent Man. Lauded for her artistry, Park has received critical acclaim and prestigious awards, including a Leo Award for Best Lead Performance by a Female in a Dramatic Series.
As an Asian actress with undeniable talent and presence, Park has illuminated issues surrounding representation and diversity within Hollywood. In 2017, she bravely opened up to Entertainment Weekly about her decision to leave Hawaii Five-0. This was after the show failed to offer her equal pay alongside her male counterparts. Her fearless advocacy for parity and visibility has greatly fostered Asian actors' progress.
Adrienne Clarkson
Famous Asian Canadian leader raised in Ottawa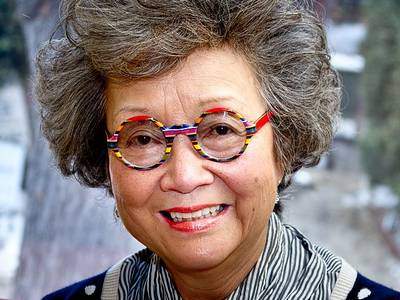 Adrienne Clarkson, a renowned Canadian luminary, served as the nation's 26th Governor General from 1999 to 2005. Born in Hong Kong in 1939, she and her family sought refuge in Canada after the Japanese invasion. Embracing Ottawa as her new hometown, Clarkson pursued English literature at the prestigious University of Toronto. She embarked on an illustrious journalism career.
Her distinct voice and presence resonated across Canadian airwaves in the 1960s and 1970s. She masterfully juggled roles as a radio and television host, producer, and writer for the Canadian Broadcasting Corporation (CBC). Never one to rest on her laurels, Clarkson expertly crafted her own production company. She weaves together insightful documentaries and programs that celebrate Canada's rich history and vibrant culture.
As a Chinese refugee who found sanctuary within Canada's welcoming borders, Clarkson's life journey deeply ingrained in her unwavering dedication to promoting multiculturalism and social justice. Throughout her life, she championed multiculturalism and diversity in Canada. As Governor General, she woven a tapestry of shared experiences by extolling Canada's multifaceted cultural heritage to foster national unity. Her zealous efforts culminated in founding the Institute for Canadian Citizenship – a non-profit devoted to nurturing civic engagement and inclusion.
Elaine Lui
Famous Asian Canadian journalist from Toronto
Elaine Lui is a captivating Canadian television personality, journalist, and author. She was born in Toronto to Chinese immigrant parents. As part of a working-class family, Lui pursued her education at the University of Western Ontario, earning a degree in Psychology before obtaining a law degree at the prestigious University of British Columbia. Despite her legal background, she followed her heart, diving headfirst into writing and entertainment.
Lui's burgeoning writing career found her contributing to prominent publications like Flare, The Globe and Mail, and Maclean's. In 2003, she launched her blog Lainey Gossip—a platform that eventually blossomed into one of Canada's most beloved celebrity gossip websites. Her alluring writing style and inimitable voice quickly garnered widespread attention as she effortlessly transitioned into television appearances and podcasting. Currently dazzling audiences as a co-host on CTV's The Social, Lui has made her mark on various other Canadian and American television shows.
As an influential figure in the Canadian media landscape, Lui tackles the challenges and opportunities of being an Asian Canadian in the entertainment industry. A staunch advocate for diversity and proper representation, she leverages her platform to illuminate crucial conversations surrounding race and identity. Unapologetically candid about her personal experiences growing up as an Asian Canadian, Elaine Lui serves as an inspiration for countless young people tackling their own unique challenges.
Kristin Kreuk
Famous Eurasian Canadian actress from Vancouver
Kristin Kreuk is a famous Canadian actress of Dutch-Chinese ancestry. She blossomed in Vancouver, British Columbia. Nurturing her mind during her youth at Eric Hamber Secondary School, she then delved into psychology and sociology at Simon Fraser University. It wasn't long before the stage call whispered in Kreuk's ear. This led to enchanting roles on Canadian television shows like Edgemont and Street Fighter: The Animated Series. However, it was her mesmerizing portrayal of Lana Lang in the wildly popular Smallville that propelled Kreuk into international stardom.
Following her heart, she continued to captivate audiences with her performances on the CW show Beauty and the Beast. She also captured our hearts through recurring roles in beloved shows such as Chuck and Burden of Truth. Yet, fame has never dulled Kreuk's passion for social and environmental causes. A fierce defender of mental health and a thoughtful advocate for climate change issues, this versatile actress remains a beacon of hope for those who share her convictions.
The rich tapestry of Kristin Kreuk's mixed heritage has woven itself into both her identity and career. Unafraid to confront Asian women's challenges in the entertainment industry, she lends her voice to increase awareness of their experiences. Her love of exploring Asian culture led her to breathe life into characters like Tomiris – a formidable queen from ancient Kazakhstan – in the 2019 film The Legend of Tomiris. Dedicated to diversity and representation, Kreuk champions emerging Asian artists by collaborating with organizations such as the Asian American Arts Alliance.
Maitreyi Ramakrishn
Famous Asian Canadian actress from Mississauga
Maitreyi Ramakrishnan, a rising Canadian star, stars as Devi Vishwakumar in the popular Netflix series Never Have I Ever. Born and raised in Mississauga, Ontario, Maitreyi comes from a Tamil family who moved from Sri Lanka to Canada. This talented actress studied at Meadowvale Secondary School before heading to Lewis University in Illinois to pursue her love of theatre.
Fate intervened in 2019 when Maitreyi found an open casting call for Never Have I Ever. Even though she was a newcomer with no prior acting background, she wowed the show's masterminds, Mindy Kaling and Lang Fisher, with her spellbinding audition tape. The duo cast her in Devi's lead role. The show became a smashing hit critically and commercially. Maitreyi's captivating performance garnered adoration for its genuine emotion and depth. This secured her a spot on Time magazine's list of the Next 100 most influential people around the globe.
As a Tamil-Canadian, Maitreyi has candidly spoken about her life growing up as a person of colour in Canada and the vital role of representation in the media. During an interview with CBC, she expressed her desire to be the role model she lacked during her formative years. She yearns for people who resemble her to see someone on screen who makes them feel seen, heard and valued. Maitreyi also shares her unique struggle with balancing her Canadian identity with her rich Tamil cultural roots.
Denise Ho
Famous Asian Canadian musician raised in Montreal
Denise Ho is a Hong Kong-Canadian talent who gracefully embodies roles of singer, actress, and pro-democracy activist. Born in 1977 in Hong Kong, she relocated to Montreal, Quebec with her family at 11. Pursuing her passion for music at the Université de Montréal, Ho soared to fame as a Cantopop sensation in Hong Kong. She launched several albums and garnered prestigious awards.
Famed for her fearless advocacy of democracy and human rights—especially in Hong Kong—Ho was an ardent supporter of the 2014 Umbrella Movement. The campaign demanded open and fair elections in Hong Kong; however, this vocal stance led to her being blacklisted from performing in mainland China. This ban also extended to radio and television stations in the region. Yet, undaunted by these obstacles, Ho persists as an advocate for democracy and has emerged as an influential voice within Hong Kong's ongoing pro-democracy movement.
As an openly lesbian artist, Ho champions LGBTQ+ rights across Asia. She actively endorses same-sex marriages and harnesses her influence to shed light on LGBTQ+ discrimination and persecution worldwide. Through her evocative music and unyielding activism, Denise Ho symbolizes resilience and serves as a beacon of hope for those championing democracy, human rights, and social justice—in Hong Kong and beyond.
Deepa Mehta
Famous Asian Canadian filmmaker raised in Canada
In her deep and evocative films, Deepa Mehta has made a name for herself as a powerful and brilliant Canadian-Indian filmmaker. Originally from Amritsar, India, Mehta made Canada her home in the early 1970s. Her journey in film and television began in the 1980s, earning praise for her work on the beloved Canadian TV program The Littlest Hobo.
Yet, it was her groundbreaking 1996 film Fire that propelled her to international fame and stirred controversy. This movie, which shed light on lesbian relationships in India, faced protests and threats but garnered critical success and accolades at global film festivals. Mehta's impressive career blossomed with movies like Earth, Water, and Midnights Children – an adaptation of Salman Rushdie's renowned novel. Throughout her career, she has garnered admiration for her deft handling of challenging subjects with remarkable finesse and subtlety.
Exploring themes of identity, culture clashes, and modernity intersecting with tradition, Deepa Mehta shines as an Indian-Canadian filmmaker giving her voice to Canadian cinema while illuminating vital issues affecting both Canadian and Indian communities.
Apart from crafting gripping narratives, Mehta's work holds substantial significance for its portrayal of Asian culture in Canadian and global cinema. Her films have carved out space for Asian voices and viewpoints sidelined in contemporary media. Through her groundbreaking films, Mehta has enhanced awareness of the challenges facing South Asian communities in Canada while also promoting a deeper understanding and recognition of Asian culture across the nation.
Madeline Thien
Famous Asian Canadian writer from Vancouver
Born in Vancouver, British Columbia, Madeleine Thien is a famous Canadian author of mixed Chinese and Malaysian descent. Growing up in a primarily Chinese community, she pursued her passion for literature at Simon Fraser University earning an English Literature degree. Furthering her education, she obtained a Master's degree from the University of British Columbia.
Thien's illustrious writing career has received numerous awards and recognitions. Her debut novel, Certainty, was published in 2006, vying for the Amazon.ca/Books in Canada First Novel Award. Dogs at the Perimeter, her sophomore book released in 2011, competed for the Hugh MacLennan Prize for Fiction.
Chasing further success, Thien's third novel, Do Not Say We Have Nothing, published in 2016, garnered the Governor General's Award for English-language fiction and the esteemed Scotiabank Giller Prize. This remarkable narrative delves into the lives of musicians navigating China during events such as the Cultural Revolution and the Tiananmen Square protests.
As a writer embracing her mixed Asian heritage, Thien skilfully weaves themes of identity, history, and displacement throughout her works. Chinese immigrants and their descendants in Canada are profoundly explored alongside modern China's political and social strife. Thien's impact reaches beyond fiction as she embodies an influential voice in contemporary literature.
Shyam Selvadurai
Famous Asian Canadian writer raised in Toronto
Shyam Selvadurai, a brilliant Sri Lankan-Canadian wordsmith, was born in Colombo, Sri Lanka in 1965. At the tender age of 19, he and his family moved to Canada where he pursued his undergraduate education at York University in Toronto. Selvadurai's literary prowess lies in delving into identity, race, and sexuality—often resonating with his own life as a gay Tamil Canadian. Additionally, his passion extends to advocating for LGBTQ+ and Tamil rights.
His literary career skyrocketed with his debut novel, Funny Boy, in 1994. This captivating coming-of-age tale is set against Sri Lanka's tumultuous political landscape during the 1970s and 1980s. Garnering numerous accolades such as the Lambda Literary Award for Gay Men's Fiction, this novel brought Selvadurai into the international spotlight. His bibliography includes Cinnamon Gardens, The Hungry Ghosts, and The Devil Dancers. Furthermore, he has lent his talent to film, television, and theater while co-editing the remarkable anthology Story-Wallah!: A Celebration of South Asian Fiction in 2005.
As a Sri Lankan-Canadian author, Selvadurai weaves together both identities seamlessly in his work. He has expressed how his Tamil heritage remains a steadfast cultural anchor throughout his life despite adapting to various cultures. Delving into LGBTQ+ themes and portraying the experiences of queer people of colour are intrinsic to his narratives. Resolute to promoting representation within literature and media spaces, Selvadurai remains a powerful and influential voice for many.
Rupi Kaur
Famous Asian Canadian poet raised in Toronto
Rupi Kaur is a renowned South Asian Canadian poet and artist. Her profoundly moving work has impacted modern literature, resonating with readers worldwide. Born in India, Kaur's family later moved to Toronto. Gifted with a sharp understanding of life's intricacies, Kaur's poetic talent blossomed as she derived inspiration from her personal experiences.
In 2014, she published her first poetry collection, Milk and Honey, which captivated readers with its authentic emotions and uncensored narratives. This touching exploration of pain, healing, love, and empowerment established Kaur as a prominent figure in contemporary poetry. Kaur's creative journey flourished with subsequent works like The Sun and Her Flowers, further cementing her status as a literary trailblazer.
Beyond the written word, Kaur also expresses her artistry visually, engaging her audience on multiple sensory levels. Her impact goes beyond cultural borders, encapsulating shared human experiences. Her honest exploration of various themes and her distinctive fusion of illustration and poetry has attracted an extensive and diverse fanbase. Asian Canadian women look to Kaur as a role model, appreciating her unique voice and skillful ability to transform life's complexities into touching verses.
Vincent Lam
Famous Asian Canadian writer from Ottawa
Vincent Lam, an Asian Canadian luminary, gracefully balances the roles of a medical professional and a captivating author. Having been born in Ottawa, Ontario in 1974, Lam spent his formative years in the city before pursuing undergraduate and medical studies at the distinguished University of Toronto. Upon completing his internal medicine residency at his alma mater, he continued to practice medicine and engage in enriching research.
Aside from his medical career, Lam charms readers with his literary accomplishments. His debut collection of short stories, Bloodletting & Miraculous Cures, emerged in 2006 and earned the esteemed Scotiabank Giller Prize. Drawing inspiration from personal experience during his medical career, these tales navigate the complexities of life and death alongside poignant explorations of human existence. Two further captivating books followed, The Headmaster's Wager and The Water Beetles, which were critically acclaimed.
Remnants of Lam's Asian roots weave their way through his literary works, often delving into the lives of Hong Kong immigrants and subsequent generations residing in Canada. In interviews, he dives into his own family's intricate history and the delicate balance one faces when straddling two distinctive cultures. Furthermore, Lam champions diversity within literature and various art forms while striving to amplify the voices of those marginalised in the creative realms.
Vikram Vij
Famous Asian Canadian chef raised in Vancouver
Born in Amritsar, India, in 1964, Vikram Vij moved to Canada with his family in 1989. He has since emerged as a trailblazing Indian-Canadian chef and restaurateur, leaving an indelible mark on Canada's culinary landscape. The path to his cooking passion involved an array of jobs from battery sales to spinning tunes as a radio DJ. But soon enough, the allure of the kitchen and his knack for crafting scrumptious meals led him to the domain where he truly belongs.
Vij's first venture into gastronomy began in Vancouver in 1994, with Vij's – a restaurant that earned a reputation for its ingenious Indian cuisine. Fusing customary Indian flavours and techniques with locally-sourced and seasonal ingredients, Vij's has carved a space for itself as a go-to spot for food lovers.
From thereon, he opened several thriving restaurants such as Rangoli, My Shanti, and Vij's Railway Express. A collection of cookbooks also graced his achievements with titles like Vij's: Elegant and Inspired Indian Cuisine and Vij's at Home: Relax, Honey. As a testament to his culinary genius, The Globe and Mail crowned him one of the 10 Chefs of the Decade in 2010. Vikram has become a proud champion of South Asian cuisine in Canada.
Philanthropy weaves itself into his life as well, with activities supporting food insecurity and education initiatives. The Vij Family Foundation is another feather in his cap—a foundation dedicated to aiding organizations that uplift underprivileged children and youth. However, Vikram doesn't stop there. He actively promotes cultural exchanges between Canada and India through events that highlight Indian culture and cuisine for Canadians to savour.
Bardish Chagger
Famous Asian Canadian politician from Waterloo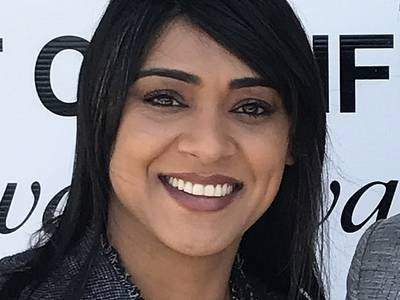 A proud Canadian politician, Bardish Chagger serves Waterloo's riding in Parliament. Born on a lovely spring day in 1980 – May 18th to be exact – she has made her hometown of Waterloo, Ontario proud. She developed her rich cultural background through her Indian immigrant parents.
Waterloo native Chagger pursued higher education at the University of Waterloo. She diligently obtained a psychology degree and polished it with a public relations diploma. The year 2011 marked a pivotal moment in her burgeoning political career, as she was elected Member of Parliament for Waterloo's riding.
Chagger achieved a special milestone in 2015 when she was appointed Minister of Small Business and Tourism. This made her the first-ever woman to hold this esteemed role. Besides this remarkable accomplishment, Chagger has donned many prestigious hats, such as Leader of the Government in the House of Commons. He is also Minister for Diversity and Inclusion and Youth.
Chagger's South Asian heritage plays an integral role in her passion for diversity and inclusion in Canadian politics. A resolute advocate for representation, she strives for increased participation by women, minorities, and youth in the political arena. Chagger even captured national attention in 2016 when she delivered an entire speech in Punjabi in the House of Commons. This was a testament to linguistic diversity and inclusion truly befitting Canada's multicultural spirit.
Matthew Seok
Famous Asian Canadian celebrity from White Rock
Matthew Seok is a rising star in the ever-evolving world of K-pop. This young Asian Canadian skillfully combines a promising music career with his strong Canadian background. In 2023, he travelled from a scenic part of Metro Vancouver to South Korea. After months of competing, he secured victory in one of the top Korean reality competition shows, Boys Planet. Seok's triumph marks his remarkable talent and determination.
Originating from the enchanting White Rock, Seok's love of performing began in his early years. Under the guidance of his older sister, an accomplished dancer and instructor, he set out to conquer the dance world. Seok refined his abilities through dedicated practice in the local dance scene. A crucial turning point in Seok's life occurred when he relocated to South Korea, initiating the next phase in his artistic development. Under MNH Entertainment's mentorship, he continued to sharpen his skills, devoting himself entirely to his passion.
This unwavering commitment paid off when Seok triumphed on the international stage of Boys Planet. He emerged victorious among a diverse group of competitors from around the globe. This distinction placed him as a key member of ZEROBASEONE (ZB1), the highly anticipated K-pop sensation group. Despite the accolades, Seok remains humble and appreciative. As Seok appears on stage with ZB1, his charismatic presence inspires fans worldwide.

Jean Yoon
Famous Asian Canadian actress from Toronto
Jean Yoon is a renowned Asian Canadian actress who rose to fame with her outstanding skills and diverse roles. Originating from Toronto, Yoon's early experiences cultivated a deep admiration for the arts. Her acting journey flourished during her studies, eventually guiding her to the National Theatre School of Canada. She sharpened her skills, laying the foundation for a profession of sincerity and depth.
Most notably, her incredible performance as Umma, the mother of the Kim family in the cherished TV series Kim's Convenience, made a lasting impression. Yoon's depiction strikes a chord with viewers because of its genuine and relatable nature. Her proficiency in handling intricate emotions and effortlessly shifting between comedy and drama highlights her extraordinary versatility as an actress.
In addition to her on-screen accomplishments, Yoon infuses her work with a sense of purpose. She champions increased representation and diversity in the entertainment sector, leveraging her influence to emphasize the significance of inclusive narratives. With her unique voice and enthralling performances, Jean Yoon remains a pioneer in Canadian television.